DC converter 3KW
For residence equipped with on-grid inverter, DC converter can allow your on-grid inverter both to feed in power to the grid and to store solar power to the battery packs. With more flexibility, it's beneficial for users to simplify the transitional process without replacing the whole system.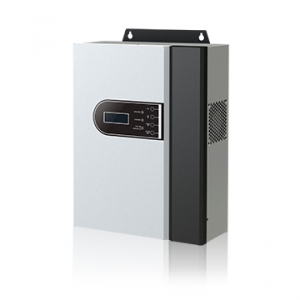 Main Features
Convert existing on-grid system to energy storage
Built-in MPPT
Compatible for high voltage battery
Support wide range of lead-acid batteries including wet, AGM and gel batteries.
MODEL
DC Converter 3KW
PV INPUT
Maximum PV Array Power
4500 W
Maximum Bypass PV Array Current
20 A
Maximum PV Array Open Circuit Voltage
580 VDC
MPPT Voltage Range
180 VDC~500 VDC
Number of MPP Trackers
1
DC OUTPUT
Maximum Conversion Efficiency
98%
Nominal Output Power
3000 W
Output Voltage Range
250 VDC~450 VDC
BATTERY & CHARGER
Maximum Charging Efficiency
98%
Nominal DC Voltage
250 VDC~450 VDC
Nominal Discharge and Charging Power
3000 W
ENVIRONMENT
Operating Temperature
0~40°C
Operating Humidity
0~90% RH (Non-condensing)
PHYSICAL
Dimension, D X W X H (mm)
96 x 363 x 284
Net Weight (kgs)
9
INTERFACE
Communication Port
Modbus
PV INPUT
Maximum Bypass PV Array Current
Maximum PV Array Open Circuit Voltage
MPPT Voltage Range
| | |
| --- | --- |
| DC Converter 3KW | 180 VDC~500 VDC |
DC OUTPUT
Maximum Conversion Efficiency
Output Voltage Range
| | |
| --- | --- |
| DC Converter 3KW | 250 VDC~450 VDC |
BATTERY & CHARGER
Maximum Charging Efficiency
Nominal DC Voltage
| | |
| --- | --- |
| DC Converter 3KW | 250 VDC~450 VDC |
Nominal Discharge and Charging Power
ENVIRONMENT
Operating Humidity
| | |
| --- | --- |
| DC Converter 3KW | 0~90% RH (Non-condensing) |
PHYSICAL
Dimension, D X W X H (mm)
| | |
| --- | --- |
| DC Converter 3KW | 96 x 363 x 284 |
INTERFACE
Application-Specific Product DC Converter DC converter 3KW
我們已收到您的會員申請,將盡速於 24 小時內回覆,在此之前您可以先瀏覽我們的網站,謝謝。